Elevate ʻIke Kūpuna
He lālā wau no ke kumu. Elevate the place-based expertise in genealogical and lineal descendants.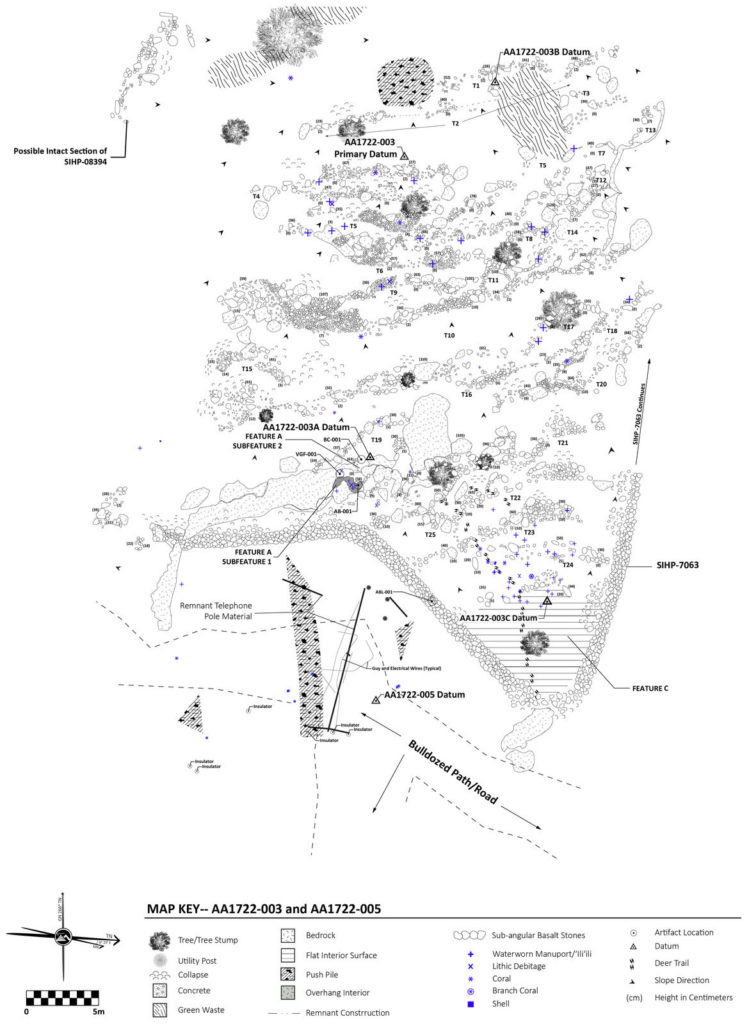 In this traditional agricultural complex, we can see the living spaces toward the top and as you go downslope, the spaces contour the downslope areas. This is somewhat unique to Mākena region and an adaptation and application of generational knowledge of not just space topography, but water resources and drainage availability.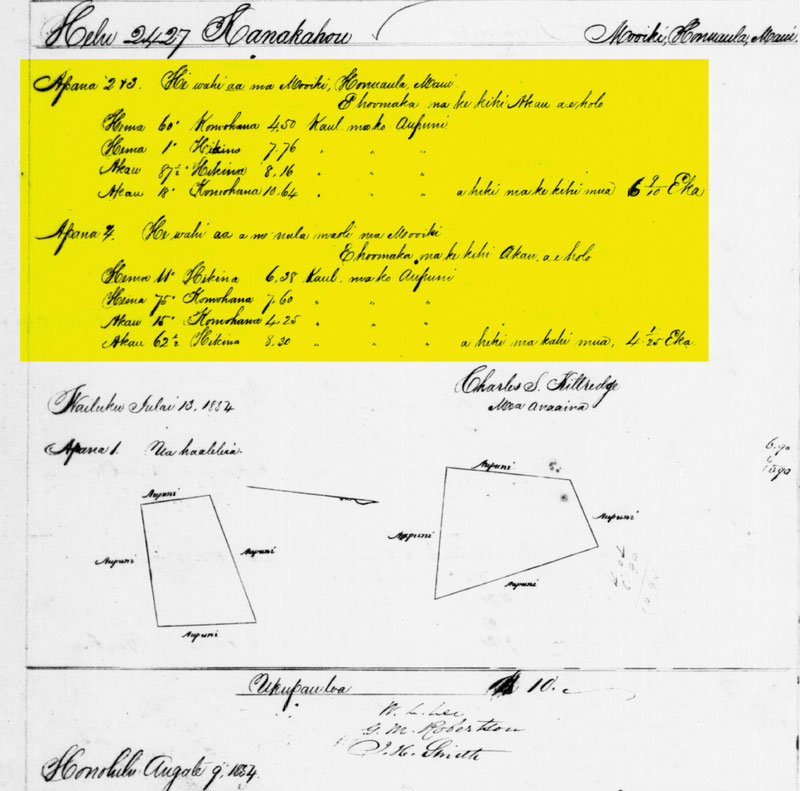 This particular Māhele kuleana award has specific claims for wahi ʻaʻā – land covered in ʻaʻā lava. In any other place by any other people, this may be seen as infertile land, but our kūpuna knew how to utilize these spaces so it can be productive for agricultural purposes. We see ʻĀpana 4 claiming ʻaʻā and ʻuala maoli (native Hawaiian sweet potato) being cultivated in these ʻaʻā spaces.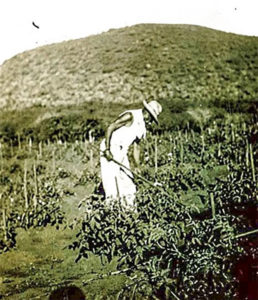 Kauwekane, an original descendant of Honuaʻula, is shown cultivating tomatoes. Our kūpuna not only cultivated traditional food and resources but those that were introduced as well in order to make these spaces livable and abundant.
Build Kaiāulu Capacity
There have been well over 50 archaeological studies completed with Mākena. By teaching the extensive history of this ʻāina, including agriculture, fishing, and ceremonial traditions, the impact of Western trade, commercial agriculture, and Christianity, we are better equipped to understand the historic sites and resources we find in this landscape.
Restore Pilina Through Practices of Care
Archaeological Preservation Plans (APP) outline how best to maintain the historic sites and properties that have a preservation mandate. APPs are public documents kept with the State Historic Preservation Division (SHPD). These plans equip us with a way to restore connectivity between these wahi pana and the ʻohana of the region and those who are protective of these spaces.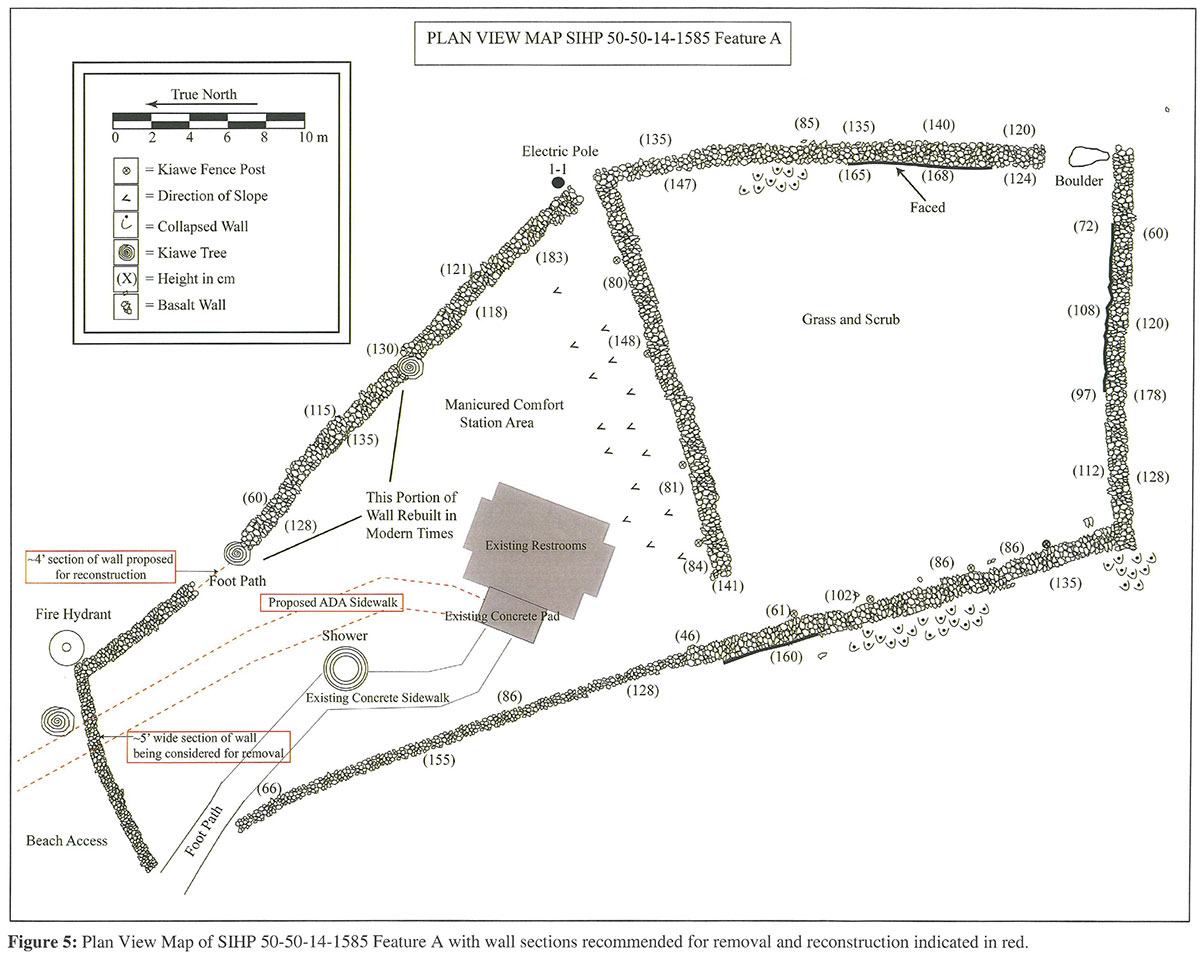 Preservation Area Example: Cow Pen
There used to be two cow pens related to the ranching and paniolo life near the Mākena Landing Park. One pen was for branding and the other for holding cows. Today, the area is no longer being used for cattle, but there is an existing restroom and concrete sidewalk that goes through the stone wall. The footpaths lead to the beach and to Keoneʻōʻio Road.
Permanent Measures (§ 13-277-6)
A plaque with State Site number, age and function will be mounted to a stand near the portion of the wall to be reconstructed, in order to better inform the public of the nature of the enclosure and its historical significance (interpretation).
Maintenance crews will collect litter and maintain the vegetation, including trees, in the comfort station area to ensure that vegetation does not disturb the physical integrity of the site and impede the public's ability to view it (conservation).
Public access to the Site will be maintained by ATC Makena Holdings, LLC.
ATC Makena Holdings, LLC will be responsible for monitoring the physical and visual integrity of the Site, with SHPD inspections conducted on an intermittent basis to assure compliance with the provisions detailed in this section.
Should storm, wave, earthquake, or other damage occur to the site and its environs, necessitating repairs, ATC Makena Holdings, LLC will notify SHPD. ATC Makena Holdings, LLC will reach an agreement with SHPD on how to proceed prior to implementing any alterations to the ground surface, site, or vegetation within the vicinity of Site 1585 Feature A.
These provisions are made for ongoing preservation (in the form of conservation and interpretation) of Site 1585 Feature A. Site 1585 Feature A will be preserved in perpetuity, with preservation provisions being binding on any successive landowners of Makena Landing.
Through Kīpaipai, we can document the visual and physical impacts that this historic site endures, and present additional preservation recommendations to the landowner. The space also presents an opportunity for citizen archaeologists and community members to monitor the preservation of the site over time.
Foster Partnerships to Ensure the Longevity and Success of Kīpaipai
Through collaboration and partnership with other entities in the Honuaʻula region, we can build cohesive, consistent, and representative care for our wahi kūpuna and historic resources. Partnerships could include other landowners, homeowners' associations, parks, public-private partnerships, and more.